This past summer a lot of attention was paid to the issue of "hydrofracking."  Hydrofracking – or, to use the proper terminology, hydraulic fracturing – is a process of natural gas and oil extraction.  The principle of hydraulic fracturing is relatively simple.  Oil companies use a water mixture that is pumped into rock beds to fracture the rock and release quantities of oil and gas that can then be collected and refined.
In New York state, there has been substantial controversy over this practice especially around the Catskill mountains.  Underneath large areas of New York, Ohio, West Virginia, Pennsylvania, and Virginia is a layer of shale rock, known as the Marcellus Shale, that contains as much as 500 trillion cubic feet of natural gas, or the equivalent of 80 million barrels of oil.  All told, the Marcellus Shale covers an area roughly 48,000 square miles.
Energy companies are keen to tap into this fossil fuel resource, but there are significant environmental and human health impacts that the process entails.  When an oil company wants to tap into the Marcellus Shale, they begin by clearcutting the drilling site of any forest that was once there.  Then, they bore down into the shale layer, at which time they twist the drills around horizontally and extend their machinery out 8,000 feet in each direction.
In the process of drilling, oil companies almost always drill through the natural water table or aquifer.  In each case of hydraulic fracturing, companies utilize between six and eight million gallons of fresh water.  After the initial injection of water, chemicals are added to the shale to make the process more efficient, and often consist of diesel fuel, benzene, and hydrochloric acid.
There have been numerous recorded instances of these chemicals, and even perhaps natural gas and oil, leaking out during the hydrofracking process and entering into local water tables.  Nearby famers and residents of hydrofracking sites have reported increased health issues that many believe are associated with the mining and extraction of natural gas by this process.  Oil companies insist that the "small amounts" they inject into mining sites are benign in those quantities, but there is little government oversight to follow up on extraction and ensure that these chemicals are not leaking into the watershed.  Companies are reluctant to release data on the chemicals they use, and how much of them that they use, nor are they legally required to do so.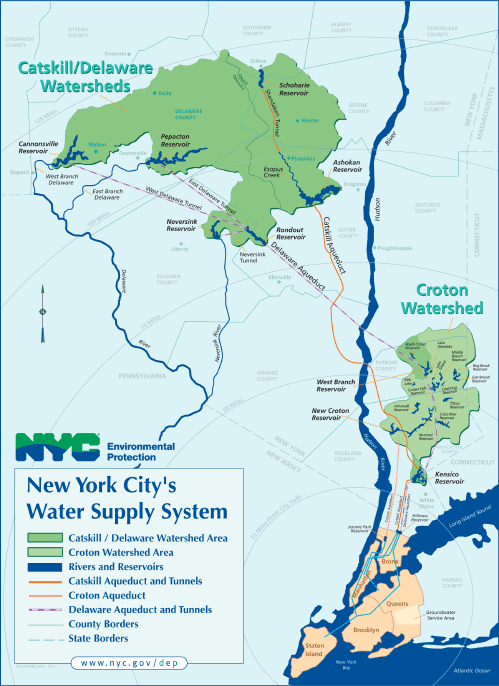 This has been an especially important issue for people living in New York state and New York City, because a large amount of our municipal water comes from reservoirs in the Catskill mountains that may be affected by runoff from hydraulic fracturing.  The story of New York City's water system is truly remarkable – for not only do our reservoirs, 80 miles away, provide an enormous metropolis all the safe drinking water they can consume, the city has also been incredibly proactive in preserving the watershed.  This has ensured that the water supply to New York City is clean and naturally purified of contaminants.  To date, the NYC Department of Environmental Protection has purchased or protected over 70,000 acres of land since 1997, through conservation easements.
A huge amount of effort has gone into preserving our watershed and ensuring our water is safe, which is why both New York City residents and city officials have been so adamant that hydraulic fracturing be outlawed in the state of New York.  And today, on December 6, there has been success in stopping hydrofracking in New York state.  The state has passed a moratorium on horizontal drilling in the state until May 15, 2011, to "allow time for the completion of a detailed and comprehensive scientific analysis of hydraulic fracturing," wrote City Council Speaker Christine Quinn.  "We are confident [the report] will affirm our contention that hydraulic fracturing should never be done within New York City's upstate unfiltered water supply."
GREEN DEPOT SOLUTIONS
New York City's drinking water is a very special, precious resource.  It is clean, unpolluted, and naturally filtered.  It should be enjoyed and celebrated!  Drinking water from bottles creates a huge mess for the environment – it takes energy to extract and bottle water, to ship to stores, and then most bottles wind up going to landfill or into the oceans, rather than to recycling.
So here are a few ways to enjoy New York City's – or any municipality's – tap water more often.
The GE Carbon Single Stage Filtration System is an under-counter single catridge filtration system from GE, improving the taste and odor of regular tap water by reducing sediment and chlorine.  It fits the cold water faucet of any sink, and can be mounted horizontally or vertically.
The Ovopur Water Purifier uses gravity to dispense water, requiring not electricity to operate.  It is constructed from porcelain, glass, and metal and contains multiple levels of water filtration – including activated carbon, bioceramics, and quartz crystal.  The filer cartridges can be returned to Aquaovo for recycling.
After you've filtered your water, you might consider carrying it in the Kor One Water Bottle.  It is a BPA-free plastic bottle that can be recycled by the manufacturer after use to be made into more Kor One bottles.  For each bottle you buy, 1% of the sales go to a charity dealing with water-related issues.  They're color-coded by issue/charity: blue is for ocean protection; green is for watershed protection; orange is for bottle container recycling, and pink is for the global water crisis.
For more filtrations options visit our water filtration section.  For water bottles, visit our water bottle section.  For other green products, make sure to visit http://greendepot.com
You can follow any responses to this entry through the RSS 2.0 You can leave a response, or trackback.